Links for Oregon LGBTQ Black History

Edited by George T. Nicola
Last updated January 6, 2018
The LGBTQ community owes a great deal to the work of our African American members and allies over the years. GLAPN has recognized these individuals in various ways, but this is our first effort to get everything on the same page.
Some of these items are links to articles that appeared in other publications. Some are hyperlinks to other pages on GLAPN.org
---
Articles in community media
---
Profiles on GLAPN.org
---
Audio and video
GLAPN's Queer Heroes
Since 2012, GLAPN has celebrated Pride by honoring a Queer Hero for every day in June. Each year the community nominates individuals who should be recognized for risk, sacrifice, service, example or inspiration in their service to the LGBTQ community. Their pictures and profiles are featured in a gallery show at Q Center, and all years' Queer Heroes are invited to a gallery reception at Q Center just before Pride weekend.
Here are the African American Queer Heroes who have been honored since 2012:
| | |
| --- | --- |
| | The late Gladys and Bill McCoy were both active politically, and were the first African-Americans in the positions to which they were elected. Each of them also contributed to gay civil rights on the legislative front. Read more … |
| | From the beginnings of LGBTQ civil rights efforts, there have been members of the clergy working to include all colors of the rainbow in the community of faith. Rev. Cecil Prescod wasl nominated as Heroes for the work he did in the LGBTQ community. Read more … |
| | Kathleen Saadat helped organize Portland's first gay rights march in 1976. She was a leader in defeating the Oregon Citizens Alliance measures of the 1990s, and she has touched all levels of government in Oregon. Read more … |
| | The late Lady Elaine Peacock left an indelible mark on Portland with her beauty, talent, fundraising and networking skills, and her legacy continues today. Read more … |
| | Harold Strong has been active in the LGBTQ community since the 1970s. He was the first African-American Emperor in the International Court System, and he is generous with time and talent as a fundraiser, a historian, and a youth mentor. Read more … |
| | As an African American, gay, paraplegic artist and activist, Rupert Kinnard has been a thoughtful and creative voice in Portland's LGBTQ comunity since he arrived here in 1979. Read more … |
| | Many Portlanders know of Poison Waters: she is an entertainer and ambassador who transcends all boundaries of gender, race, and situation. Not so many people are aware of the work that Kevin Cook has been doing in our community for decades. Read more … |
| | Antoinette and Keith Edwards are co-founders of Portland PFLAG's Black Chapter, the first Black PFLFAG chapter in the USA. Read more … |
| | Cliff Jones' first volunteer gig was at Pride in 1981, and he has been active in Portland's LGBTQ community ever since. Read more … |
| | Leila Hofstein is a powerhouse among queer and trans youth of color, connecting them to community resources and teaching them how to work together to create a powerful community. Read more … |
| | As an African-American lesbian, Margaret-Ann Jones stands at the intersection of several kinds of discrimination. Having recently turned 65, she found herself turning the corner at another intersection. Read more … |
| | The Audria M. Edwards Scholarship Fund has been granting aid to LGBTQ students in Oregon and SW Washington since the early 1990s. The story of creating, naming, and continuing this organization involves some of the most prominent names in Portland's LGBTQ community. Read more … |
| | The late Amani Jabari was one of the first activists to address the crisis of AIDS among people of color in Oregon. Read more … |
| | Giovanni Blair McKenzie is founder of Queer Intersections (Qi), advocating for LGBTQ youth of color. Read more … |
| | Kendall Clawson was Q Center's first executive director; and she went on to serve as Deputy Chief of Staff for two of Oregon's governors. Read more … |
| | Llondyn Elliott is a high-school student in Portland, already active for racial justice and LGBTQ causes in her community. Read more … |
| | Since his own diagnosis in 1983, Maurice Evans has worked locally and at the state level to improve services for HIV/AIDS patients. Read more … |
| | Cory L. Murphy is an emerging leader in Portlands African American and LGBTQ communities. Read more … |
| | Darion Demartez Jones has been involved in LGBTQ activism for almost half of his life. He is currently on the board of PFLAG Portland's Black Chapter. He is creator and host of QTPOC Talk on KBOO-FM, supporting Portland's Queer and Trans Community of Color; and in a full-time job in our region's philanthropic community he's bringing new focus on inclusion and equity. Read more … |
| | Geeta Lewis found Q Center when she needed it, and volunteered to help there wherever she could. Now she's on Q Center's board of directors, advocated for programming that is more accessible to working poor people, people of color, and transgender women. Read more … |
| | Judge Kemp works quietly in the Governor's office, helping to make Oregon state boards and commissions more representative of the state's population, including LGBTQ folks, women, and people of color. He's more likely to be known as an eloquent writer or one of the forces behind Portland's iconic Red Dress Party. Read more … |
| | Jaycen Marcus, a transgender male, wanted to live in the men's dorm with his friends, and George Fox University denied the request. The resulting legal case made headlines nationwide. Read more … |
| | Tyler TerMeer was diagnosed with HIV at the age of 21, and decided to spend his life openly as an HIV positive gay man of color, helping others living with HIV, and advocating for effective HIV policy. He has a remarkable record of service at state- and national levels, and he was recognized in 2012 by the Obama White House as one of the Nation's Emerging LGBTQ+ Leaders, and then again in 2013 as being among the Emerging Black LGBTQ+ leadership in the country. In 2014, Tyler TerMeer was hired as Executive Director of Cascade AIDS Project (CAP). Read more … |
| | Tashia Harris (they/them/theirs and he/him/his pronouns) came to Portland to work at Western States Center as the Racial Justice Program director. Tashia is fresh from leadership at George Mason University's Women and Gender Studies Department, Fairfax, VA. Tashia is being praised for quick and clear analysis of intersectional issues, plus insightful and appropriate action. However, most of the praise comes from the teaching that lifts up everybody who spends time around them. Read more … |
| | After years of addiction, homelessness and jail time, LaKeesha Dumas and O'Nesha Cochran-Dumas got clean in 2011 after they met and fell in love. After that, going back to jail and being separated from one another was too hard to bear. They joined PFLAG Portland's Black Chapter early in recovery, and eventually sat on that organization's Board of Directors. Both women are now in recovery, with jobs in the mental health sector, and providing outreach and training in the community. Read more … |
| | |
| | |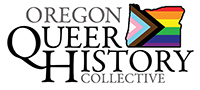 P.O. Box 3646 • Portland, OR 97208-3646 • info@glapn.org
Copyright © 2018, Gay & Lesbian Archives of the Pacific Northwest