Queer Heroes NW 2022:
Greater Portland Trans Unity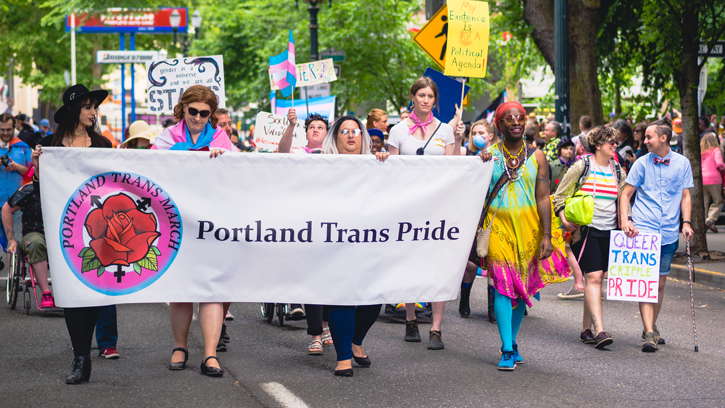 Greater Portland Trans Unity (GPTU) was founded out of the successful organizing of the 2014 Portland Trans Pride March, to provide focus and continuity to local trans community organizing.
In addition to bringing together a community planning committee to organize the trans march on Pride weekend, GPTU has co-organized and supported events for International Trans Day of Remembrance, Trans Day of Visibility, and National Trans HIV Testing Day. As an all-volunteer project, GPTU is fiscally sponsored by Pride Northwest.
In 2016, GPTU collaborated with community partners to host the Trans Health Resource Fair, which happened a few days following Donald Trump's election. The event amplified both the need for community strength and solidarity (as Trump's policies threatened gender-affirming care in Oregon) and the growing ecosystem of trans healthcare providers in Portland.
From 2014 to 2019, the Portland Trans Pride March grew from 400 to nearly 3,000 participants. The event includes speakers, a resource fair, and thousands of people joyfully marching and rolling in the streets. A celebration of gender diversity that forefronts racial, gender, and disability justice, Portland's Trans Pride March is one of the largest continuous trans pride events in the nation, and a mainstay for our local community. It offers a rare moment when trans and nonbinary people of all ages can experience our collective power while being surrounded and seen by our peers.
Greater Portland Trans Unity is also a founding member of PDX Trans Housing Coalition, collaborating with other LGBTQ2SIA+ and allied organizations to build community support for trans and queer people who are unhoused or otherwise impacted by housing injustice.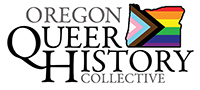 P.O. Box 3646 • Portland, OR 97208-3646 • info@glapn.org
Copyright © 2021, Gay & Lesbian Archives of the Pacific Northwest