Queer Heroes NW 2022:
Cynthia Butts
Eric D. Brown, the founder of Pride Northwest, has some great thing to say about Cynthia Butts, an African American lesbian.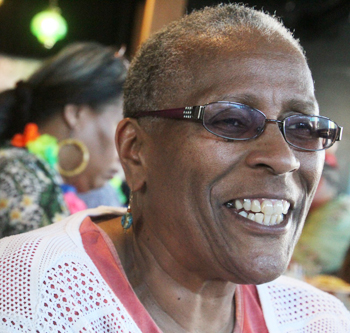 Since about 1989, Cynthia was a member of the Potter's House, a religious group that Eric led. She participated consistently, led the congregation, went through great loss, reached out to others in the church who were also grieving, and started a grief release group for those facing loss.
Cynthia participated in the choir at Potter's House and led the church services after she became one of its elders. The last few years of the church, she shared the pastor roles with two other elders, Sharon Messerschmidt and Eric D Brown. She shared her sorrow and her joy authentically with the congregation as she led them until the church turned to a new leader in 2003.
Cynthia regularly performed music solo or along with others to bring the church to their feet. She hugged and comforted those who came sharing her love for her community and her wisdom with them. Cynthia has a spectacular voice and has sung at various LGBTQ events and has been a guest performer with the Portland Lesbian Choir and the Portland Gay Men's Chorus. A friend says that "when she sings, her voice causes me to sing alongside."
Eric remembers that Cynthia "reached out to me after 6 friends died in 6 months inviting me to an indoor soccer game. Her grief and mine went to those games for three years while we became friends and shared the burden of the other's losses.
Eric notes, "She has been a hero to me since 1996. As a past Queer Hero, I loudly urge that she be recognized for the way she unified people, loves people, can sing to people's hope, and hug people with the love she shares.
Cynthia particpated in the Family, Friends and Neighbors pictorial that went across the State of Oregon in the early 90s, and performed story telling for the Beaverton Library, and Our Bold Voices. She was also part of the Portland Art Museum Powerful Self: LGBTQIA2S+ Lives Today, Object Stories.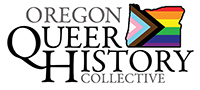 P.O. Box 3646 • Portland, OR 97208-3646 • info@glapn.org
Copyright © 2021, Gay & Lesbian Archives of the Pacific Northwest