Queer Heroes NW 2022:
Keith Kolkow and Jerred Taylor
Keith Kolkow and Jerred Taylor are community volunteers and activist in Albany, Oregon. Keith and Jerred met at a Monteith River Park in Albany, where the two helped to set up the inflatable screen for the community outdoor movies in the park. Throughout their relationship the couple have worked to make Albany a more welcoming and inclusive community.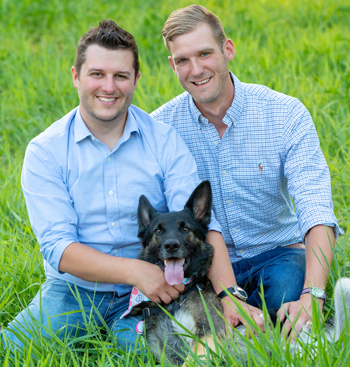 Keith is the founder and organizer of Albany Pride, Albany's Annual Pride Event, which is now in its 5th year. Keith is also responsible for driving the City of Albany to sign its first ever Pride Proclamation in 2017. Both Keith and Jerred have served in a number of appointed roles in Albany's City Government; both have ran for local office. Keith served on the Albany Landmarks Commission, helping community members navigate historic preservation ordinances, and currently serves on the Albany Human Relations Commission where he helps to build bridges within Albany's diverse community. Jerred serves on the City of Albany Budget Committee, reviewing how city resources are prioritized with an equity lens.
Both Keith and Jerred are highly active in local politics. Jerred serves as Chair of the Linn County Democrats, Keith serves as Vice Chair of the Stonewall Caucus of the Democratic Party of Oregon, and both serve on the Democratic Party of Oregon Executive Committee. The couple work to ensure that candidates from marginalized communities have the resources, training and support they need to be successful in conservative-leaning areas. In addition to their political work, Keith and Jerred also volunteer or find monetary ways to give back.
The couple have participated in numerous park cleanup events, restoring native plants to local habitats, cleaning up Albany's downtown, helping families with the high cost of back-to-school shopping with Altrusa KidzShop, and offering an annual scholarship for graduating high school seniors who have a heart for community service.
Fay Stetz-Waters, a friend of the couple and 2021 recipient of the Queer Heroes NW remarks that Keith and Jerred "are the future of humanity, at least in Linn County. They are volunteers, leaders. These guys are community servants."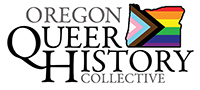 P.O. Box 3646 • Portland, OR 97208-3646 • info@glapn.org
Copyright © 2021, Gay & Lesbian Archives of the Pacific Northwest