Queer Heroes NW 2022:
Deenie Bulyalert

Deenie Bulyalert completed her junior year at Grants Pass High School in June of 2022. 
She joined PRIDE Club when she was in sixth grade, but didn't start being active in direct action activism until she entered high school. Since then, Deenie has stepped into the role of student leader trying to fight for LGBTQ+ and BIPOC student rights in Grants Pass.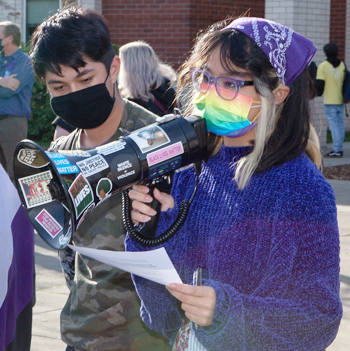 Deenie has become most prominently known for leading a student walk out, along with other student leaders, to protest a decision of the District 7 school board. She did this to give LGBTQ+ students a voice they felt they were missing. 
In July of 2021, two District 7 educators were fired for mounting an anti-trans campaign in violation of district and state policies. Students led rallies and protests to show the youth that they are not alone. Although they fought, six months later, in November of 2021, the District 7 school board reinstated the two educators allowing them to work in the district. And so a walk out took place at Grants Pass High School on November 16th, 2021. 
"I know the feeling of being invisible, and being involved means I can help others not feel alone, support them through their journey of finding themselves, and reassuring them that their life has worth," Deenie says. 
Growing up as a person of color, Deenie learned that she couldn't hide her skin. She had a choice to either stay quiet about the discrimination that she and her peers had to go through or speak up about the things that impacted them. She chose to speak up. 

Over the years Deenie has led many different events to give people who need it, a voice. She is going into her Senior year where she will be President of the school's PRIDE club. She continues in activism work because she believes that change needs to happen.
Students need support and Deenie is willing to fight for that.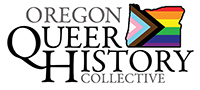 P.O. Box 3646 • Portland, OR 97208-3646 • info@glapn.org
Copyright © 2021, Gay & Lesbian Archives of the Pacific Northwest