Nell and Rebecca Austen
Nell and Rebecca owned and operated a gay women's resort in northern Michigan in the 1980s and '90s, and helped organize a local Women's History Project for many of those years.
As gay parents to an adopted Chinese daughter they faced many legal hurdles including having to "closet" their relationship to pass the "home visit."
(L-R: Nell, Maya and Rebecca Austen)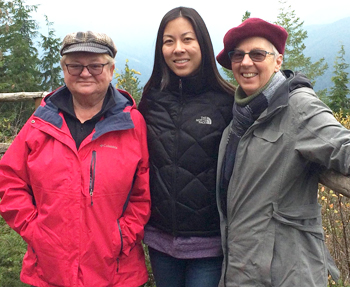 They moved to Portland in 1997 partly to escape the homophobia and racism in their rural community regarding gay adoption. They were okay as lesbians living quietly on the outskirts of town but the moment they adopted Maya and became parents, some in the community freaked out. "Whose baby is it, anyway?"
They moved to the Oregon Coast in the summer of 2013. Nell retired from the City of Portland's Office of Neighborhood Involvement and their daughter Maya had just graduated from St. Mary's Academy when Rebecca got a job as Lincoln County's Health Department Director. They've been living in Seal Rock ever since.
Nell and Rebecca have actively spearheaded the local organizing of the women's marches and been involved in Central Oregon Coast NOW (Oregon's largest chapter). Nell does NOW public relations and also administers three Facebook groups—Stronger Together Newport, NOW and Resist and Persist. They have been a part of the coastal
lesbian potlucks as well.
Right now their political priority is preserving rights for women and minorities and saving our democracy.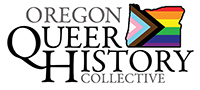 P.O. Box 3646 • Portland, OR 97208-3646 • info@glapn.org
Copyright © 2019, Gay & Lesbian Archives of the Pacific Northwest