Queer Heroes NW 2021:
Allinee "shiny" Flanary

shiny Flanary explains things best in her own words:
"Scrapberry Farm is a tiny farm on the stolen lands of indigenous peoples in the place we now call Portland, Oregon. I farm on unceded Wapato territory with the badass farmers of the Raceme Farm Collective.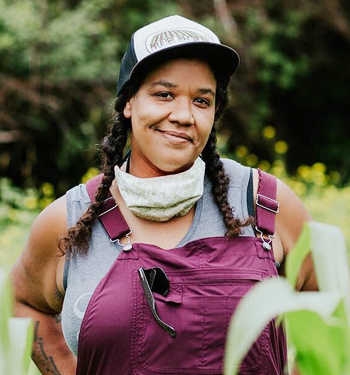 I'm a black, queer, anti-racist dirty femme – an alchemist, cottage witch, farmer, and medicine maker. I grow and make magic with my hands and with my heart: furniture, quilts, songs, poems, food and drink …
When I'm not on the farm I'm at the market. As the Director of Markets for Black Food Sovereignty Coalition, I manage the Come Thru Market and other market opportunities for Black and Indigenous folks living in Portland, Oregon."
The Raceme Farm Collective is a group of three distinct Black and Brown-owned farm businesses that work in collective, sharing investment and risk in farm infrastructure, marketing, and planning work. We farm on unceded Wapato territory, today this place is called Sauvie Island. 
We are the people at local farmers markets teaching kids about herbs. We grow and sell culturally-specific CSA (Community Supported Agriculture) shares. Need a tea for you and your puppy? Apple cider vinegar tonic to keep you feeling tiptop? How about a salve for those poor overwashed hands? We make plant-based delights to help your whole family feel whole and nourished.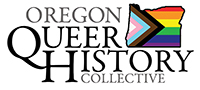 P.O. Box 3646 • Portland, OR 97208-3646 • info@glapn.org
Copyright © 2021, Gay & Lesbian Archives of the Pacific Northwest