Queer Heroes NW 2021:
Brian Bergquist

Brian Bergquist was a champion for Idaho's LGBTQ community in the 1980s and 1990s. He led the effort to organize the first Gay Pride parade in Boise in 1990, and in 1993 he was in charge of the statewide effort to oppose the Idaho Citizens Alliance effort to put an anti-gay measure on the ballot for Idaho's next general election.

That should sound familiar to Oregonians – Lon Mabon and Scott Lively, principals in the Oregon Citizens Alliance, were hoping to start a nationwide anti-gay movement beginning in the western states. Their work was faltering in Oregon, but encouraged by the success of Amendment 2 in Colorado, supporters decided an OCA clone in Idaho would be a good idea.
The language of the ballot measure largely duplicated Oregon's Measure 9 as well. It addressed a wide range of issues, from pro-gay books in public libraries to references to homosexuality in the classroom.
Bergquist co-chaired the organization Don't Sign On, which urged citizens not to sign the initiative petition. When the measure was placed on the 1994 ballot as Proposition One, he led the opposition campaign – successfully. The proposition was defeated at the polls, though only by the slim margin of 3,000 votes statewide.
Brian Bergquist died of a sudden heart attack four years later during Gay Pride Week in Boise in 1998. He was memorialized by tributes in Boise's daily newspaper, the Idaho Statesman, and in the pages of Boise's gay newspaper, Diversity. A student lounge in the Boise State University Student Union was named for him. A wall display of photos, newspaper articles, and other items commemorates his life there.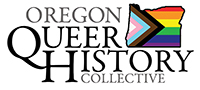 P.O. Box 3646 • Portland, OR 97208-3646 • info@glapn.org
Copyright © 2021, Gay & Lesbian Archives of the Pacific Northwest