Queer Heroes NW 2021:
S.A.F.E. (Students Advocating for Equality)
at Sandy High School

On March 20, 2021, two rallies took place in Sandy, Oregon.
One of them was a "celebration of the natural heterosexual family," one in a series of monthly gatherings staged by a local Pentecostal church, with Proud Boys showing up "to protect their First Amendment rights," according to news media.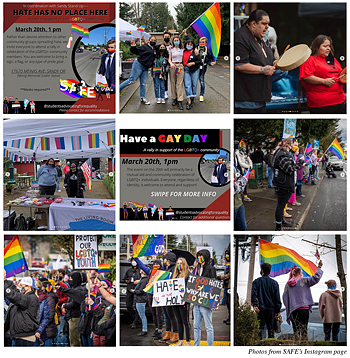 Across the street, a coalition of community groups energized by S.A.F.E. at Sandy High School, rallied to "Have a Gay Day," with about 100 people in attendance.
S.A.F.E. teamed up with Sandy Stand Up and Fires Igniting the Spirit (FITS), an organization from the indigenous community. Members of FITS opened the event with an honor song and stories of community-driven mutual aid efforts in support of Native communities. Other speakers included rural LGBTQ+ youth and elders who want rural Clackamas County to be a welcoming place for people of all colors and genders. The Living Room from Oregon City, a LGBTQ community group, showed up in support.
The illustration is a collage from the S.A.F.E.
Instagram page. Click on the image
to see a larger version.
Have a Gay Day wasn't characterized so much as a counter-protest as a statement that LGBTQ+ folks and people of all colors live in Sandy and deserve to feel at home there.
"We want to positively and safely channel our energy by centering the rural community's LGBTQ voices," one of the organizers told the press.
Both sides were prepared for violence. S.A.F.E had organized carpools to get everybody home safely, and of course the Proud Boys were watching out on their side of the street. However, the event(s) rolled out peacefully.
Gay & Lesbian Archives of the Pacific Northwest salutes S.A.F.E. for their history-making leadership.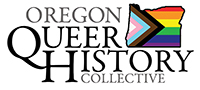 P.O. Box 3646 • Portland, OR 97208-3646 • info@glapn.org
Copyright © 2021, Gay & Lesbian Archives of the Pacific Northwest