Queer Heroes NW 2021:
Eliza Canty-Jones

Eliza E. Canty-Jones is Editor of the Oregon Historical Quarterly and Director of Community Engagement at the Oregon Historical Society.
She produces scholarship, public programs, educational resources, and organizational partnerships that advance complex perspectives on Oregon's past. She holds an M.A. in Pacific Northwest and public history from Portland State University and a B.A. in English from St. Mary's College of Maryland, where she was founding co-editor of SlackWater: Oral Folk History of Southern Maryland. Eliza was co-founder and served as President of the Oregon Women's History Consortium, which created the statewide centennial project, Century of Action: Oregon Women Vote, 1912–2012.
Eliza is one of Oregon's most accomplished public historians, embracing both community based and academically oriented history approaches. She is openly bisexual, and she has provided considerable assistance to GLAPN in disseminating our community's story. This has included reviewing and providing feedback on many of our articles.
In 2020, Eliza addressed the reception for the George T. Nicola LGBTQ+ History Fellowship, a joint project between GLAPN and Pride Northwest. She gave an enthusiastic speech that included detailed analyses of the Fellowship papers submitted by the honorees.
Eliza is dedicated to working in ways that surface historical and present patterns of white supremacy, patriarchy, and other oppressive systems and to lifting up the stories and voices of the many people in our past and present who have envisioned and worked toward a world that is safe and joyful for all.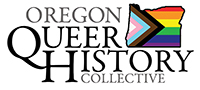 P.O. Box 3646 • Portland, OR 97208-3646 • info@glapn.org
Copyright © 2021, Gay & Lesbian Archives of the Pacific Northwest