Queer Heroes Northwest 2017:
Erin Janssens

Erin Janssens served 31 years in the Fire Service, nearly 28 of those with Portland Fire & Rescue, where she was hired as a firefighter in 1988. She retired in 2016.
Erin was the first woman firefighter in Portland to test competitively and be appointed Fire Lieutenant, Fire Captain, and Battalion Chief. In 2007, she was selected to serve as the Deputy Chief of Special Operations, and in 2009 she became Portland's first woman to serve as the Fire Marshal, leading the Prevention Division. In 2012, Erin became the first female to serve as the Chief of Portland Fire & Rescue, Oregon's largest fire department. Throughout her tenure as Fire Chief, there were only four other women across the nation leading metro-sized fire departments.
Erin is also an out lesbian and the first openly LGBTQ person to serve as Portland's Fire Chief. She says that before becoming the Chief, she was a relatively private person. As the Fire Chief, she recognized the importance, especially as a role model in a non-traditional profession, of being out.
She states "I'm very happy that we have made so many advancements for equity in both the workplace and society as a whole, but there's still work to do. As the Chief, it has been my honor to walk with fellow LGBT firefighters in the Pride Parade, attend the annual Basic Rights Oregon dinners, and make sure I set the tone that no form of discrimination is tolerated. It's also important to educate people to use language that is inclusive, in order to help open minds where images, fueled by language, have limited opportunities for
so many."
As Portland's first female and first openly LGBTQ Fire Chief, as well as her work as a firefighter before that, Erin blazed the trail in a profession that historically was considered exclusively male and straight.
We begin announcing a hero per day on June 1, and the heroes' posters are unveiled in a reception at Q Center on June 15, 2017, 5-7PM. The public is invited. Queer Heroes' posters are displayed all year at Q Center.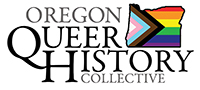 P.O. Box 3646 • Portland, OR 97208-3646 • info@glapn.org
Copyright © 2017