Queer Heroes Northwest 2015:
Nedra Bagley

Nedra Bagley recalls that in the mid-1970s, Denis Moore approached her to run for the board of Portland Town Council. PTC was one of Portland's earliest gay equality groups, and the first one to include political activism in its charter.
Nedra won the position and stayed on the PTC board for several years, helping to organize the Gay Pride Parade and waterfront fair. She was one a handful of people who organized Oregon's first Gay Pride March in 1976.
In 1977, Nedra was given the honor of reading the Mayor Neil Goldschmidt's first-ever proclamation establishing Portland's official Gay Pride Day.
The gay community had the attention of state government at the time (the first gay civil rights bill was introduced in Oregon in 1973), and Governor Robert Straub appointed a Task Force on Sexual Preference to study the questions that were arising. Nedra was the liaison to the governor's Task Force from Portland Town Council. The Task Force attended Portland Pride, and Nedra recalls helping PTC and members of the Task Force deal with the anti-gay religious demonstrators who showed up regularly at Pride events.
Today Nedra is a Realtor in Portland. She has helped many LGBTQ people find homes over the years, and she is a strong supporter of the LGBTQ community.
We begin announcing a hero per day on June 1, and the heroes' posters are unveiled in a reception at Q Center on June 11, 2015, 5-7PM. The public is invited. A traveling version of the Heroes posters will be displayed by GLAPN and Q Center at Portland Pride.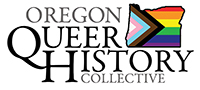 P.O. Box 3646 • Portland, OR 97208-3646 • info@glapn.or
Copyright © 2015