Queer Heroes Northwest 2015:
Zan Gibbs

Zan Gibbs helped found SMYRC (Sexual Minorities Youth Resource Center) in 1998 with two youth, and headed the program for 12 years. SMYRC survives today.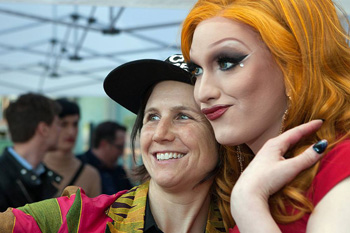 One of the features that set SMYRC apart at the time – and distinguishes it now – is the notion of youth empowerment: youth run the program, and the "director" facilitates. Not all director-types are cut out to work that way, because it gives up a lot of control. On the other hand, sexual minority youth, already living on the edge, aren't into having another set of grownups telling them what to do, and they'll abandon programs that treat them that way.
Today that approach has a name: "anti-oppression principles with high-risk populations." It worked over and over at SMYRC, and 12 years worth of former SMYRC youth look up to Zan as a role model, a mentor, a source of inspiration, a leader, and a very, very good listener. When Zan left SMYRC, she left a strong tradition of youth empowerment, which persisted in the organization although the original SMYRC youth have long since grown out of the program.
Zan moved on. As an avid bicyclist, Zan has been organizing road rides for women since about 2009, and Zan has used their talents in a variety of community roles, currently working in public housing managing healthcare programs.
In the winter of 2014, Zan joined the interim board at Q Center, sharing their special brand of anti-oppression leadership as the organization learned to listen to and honor its clientele. The picture shows Zan with one of their SMYRC protégés, the amazing Jinkx Monsoon.
We begin announcing a hero per day on June 1, and the heroes' posters are unveiled in a reception at Q Center on June 11, 2015, 5-7PM. The public is invited. A traveling version of the Heroes posters will be displayed by GLAPN and Q Center at Portland Pride.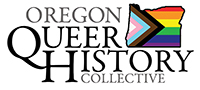 P.O. Box 3646 • Portland, OR 97208-3646 • info@glapn.or
Copyright © 2015