Queer Heroes Northwest 2015:
Becky Groves

Becky Groves started out as a PFLAG mom in Prineville more than 10 years ago.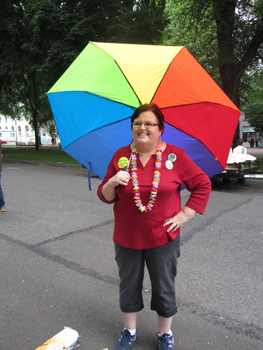 Her kid grew up, but Becky never left the organization. Today she's an out-and-proud grandma to the little girl that her son and his partner recently adopted (as well as two other grandbabies!).
Becky has served as PFLAG Oregon State Council chair, and she currently shares that job as co-chair.
Smaller towns can be tough for sexual minority kids, and the parents who love them. Expressed as a ratio, just as many LGBTQ kids are born in rural areas as in the population centers of the state, but for the kids – and their families – there's no safety in numbers in a small town, and nowhere to hide in a place where everybody knows your name. Advocacy can become very personal.
But apparently lots of folks know Becky's name, as well. As president of the PFLAG Central Oregon Chapter – the only PFLAG between Grants Pass and La Grande – she helped create one of the most dynamic chapters in the state (according to other PFLAG-ers). With some combination of fearlessness and diplomacy, Becky and Central Oregon PFLAG have been changing hearts and minds in Prineville/Bend/Redmond through presentations in schools, churches, and businesses for more than a decade. And when the marriage equality campaign came to central Oregon, PFLAG Central Oregon was on board.
It can't always have been easy – which is why people who take on this kind of work are called heroes.
We begin announcing a hero per day on June 1, and the heroes' posters are unveiled in a reception at Q Center on June 11, 2015, 5-7PM. The public is invited. A traveling version of the Heroes posters will be displayed by GLAPN and Q Center at Portland Pride.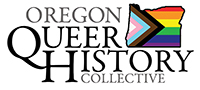 P.O. Box 3646 • Portland, OR 97208-3646 • info@glapn.or
Copyright © 2015