Queer Heroes Northwest 2015:
Raven E. Heavy Runner
Raven E. Heavy Runner, MSW, (Blackfeet) is one of the many Two Spirit voices in the western United States, reclaiming a tradition that European colonization had nearly extinguished among Native Americans.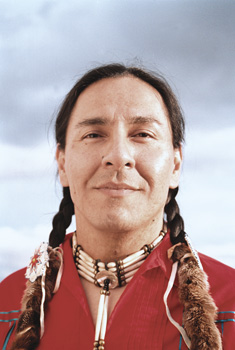 Homophobia was virtually unknown in Native cultures. Tribal legend and oral history confirm this tradition. So, in fact, do early American ethnographers, who remarked on the unfamiliar freedom of gender expression. However, Christian missionaries certainly disapproved, and spent the better part of 400 years trying to eradicate this freedom along with most other aspects of Native identity.
Raven's personal journey as a board school attendee, Rural reservation child, Seattle Street Kid, U.S. Army Veteran, LGBTQ activist, and college graduate led him to believe he was something else besides just a gay Indian, and he began truly studying the cultures that he lived in. While getting involved in theatre, he also began learning about being a Two-Spirit. 
Two Spirit people tended to be identified early and given roles in society that matched their gifts: teachers, healers, nurses, storytellers, sacred name givers, match makers, ambassadors, or perhaps keepers of sacred knowledge.
Raven's role has been as a scholar, an ambassador across cultures, and an important voice in Native communities as he helps to restore indigenous values that emphatically do not include homophobia.
Raven is currently social worker with the Muckleshoot Tribe in Washington State, and he continues to be active in the revival of Two Spirit awareness nationwide.
We begin announcing a hero per day on June 1, and the heroes' posters are unveiled
in a reception at Q Center on June 11, 2015, from 5-7 PM. The public is invited.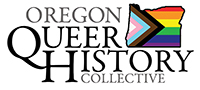 P.O. Box 3646 • Portland, OR 97208-3646 • info@glapn.org
Copyright © 2015