Queer Heroes Northwest 2015:
Devon Davis Williamson
Devon Rose Davis is a Survivor, an artisan, an empath, a facilitator, a Trans* activist and a Trans woman. She has lived in Portland for 14 of her 29 years, and is an outspoken voice within the Queer community, representing an intersection frequently excluded from the conversation.
Born into a poor, dysfunctional family in rural Oregon, Devon's childhood identity was met with fear, violence and neglect. Neglect that provided opportunities for sexual abuse. She was pushed out of her family home at 17, during the beginning of her physical transition. Like many young Trans women, she was funneled toward sex work as a means of survival, and spent seven years engaged in prostitution.
She has since worked with SWOP (Sex Workers Outreach Project), JOIN (Connecting the Street to a Home), and most recently JANUS Youth in the CSEC (Commercially and Sexually Exploited Children) program. She is pursuing education in mental health, and is one of the first people in her family to attend and graduate college. in 2013, Devon founded and facilitated the Shine Group at Q Center, a community space and support group for LGBTQI Survivors of Sex Abuse.
In January of 2015, Devon joined the Interim Board of Directors at Q Center, and forged ahead with new far-reaching policy that would restructure the organization. Policy that would ultimately make Q Center a safer environment for people of Color, Trans women and people with Disabilities.
Devon will Graduate from Portland State University in 2016 with a Bachelor's degree in Social Science, and plans to apply to the graduate program for Clinical Mental Health Counseling for the fall of 2016. Devon's lifework is about facilitating movement and bringing illumination; being part of others' evolution from mere survival, to actively being in light.
We begin announcing a hero per day on June 1, and the heroes' posters are unveiled
in a reception at Q Center on June 11, 2015, from 5-7 PM. The public is invited.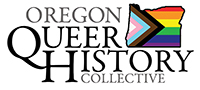 P.O. Box 3646 • Portland, OR 97208-3646 • info@glapn.org
Copyright © 2015