Queer Heroes NW 2013
Kristan Aspen Knapp
With characteristic modesty, Kristan Knapp says, "I'm not a Queer Hero. I'm your basic lesbian activist who happens to have helped a lot of projects get off the ground."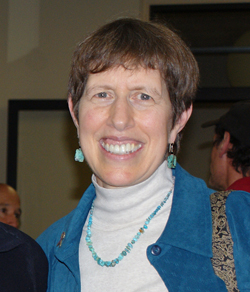 Kristan's activism began in the early 1970s, when she joined the Red Emma Collective that helped establish the Portland Feminist Women's Health Clinic and Prescott House. Prescott House evolved into the domestic violence organization known today as Bradley Angle.
Kristan's musical career is extensive, having been a part of Ursa Minor Choir, a pioneering lesbian choir led by Naomi Littlebear Morena. Kristan produced women's music concerts, festivals and several albums by lesbian artists, performed with The Dyketones, and toured nationally with the Izquierda Ensemble and Musica Femina Flute-Guitar Duo. Kristan also instigated an early incarnation of the Rose City Gay Freedom Band.
Kristan trained to become an auto mechanic, had her own shop, and taught auto mechanics for women. She served two stints on the Pride NW Board, helped organize the Walk for Love and Justice, and twice led the Lesbian Community Project. In the late 1990s Kristan created the Conversations Project to help heal our community after the Ballot Measure 9 struggle, and produced "Transparencies," a theatrical presentation that showcased and honored the diversity of the LGBTQ community.
Kristan comes by her activism naturally. In 1972, when Kristan came out to her parents, the Reverend Charles and Rita Knapp joined with Ann and Bill Shepherd to offer support to other parents of gay people, co-founding in 1977 a group that eventually became PFLAG Portland. Kristan and her partner Janna will celebrate 33 years together this fall.
Q Center and the Gay & Lesbian Archives of the Pacific Northwest (GLAPN) have partnered on an annual multi-media celebration of LGBTQ pioneers and leaders from our local movement called Queer Heroes NW!
The project features a new queer hero (nominated by the greater LGBTQ community) every day online during Pride month (June). The 30 queer heroes are also featured on the walls of the Aaron Hall Gallery at Q Center for the months of June and July, as well as in Q Center's Pride booths all over the region.
After Pride is over each year the portable display hits the road and makes the rounds all over community centers, schools, churches, and businesses in the Pacific NW! Help us honor our queer heroes by spreading the word.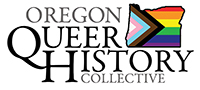 Copyright ©2015 • Gay & Lesbian Archives of the Pacific Northwest