An explanation of the significant advancements, and organized challenges to, legal equality for LGBTQ people in Oregon.
Exact counts are difficult, but it appears that Oregon has suffered through more anti-gay ballot measures than any of the other United States. Here's a list a list and an explanation of the most significant ones.
The cause of LGBTQ civil rights could not have been advanced without our straight allies. Gladys McCoy is one of the earliest Oregon political figures to come out in support of our community.

Hearts & Voices: Gretchen Miller Kafoury, Personal Recollections of Oregon Gay History, by George T. Nicola.

Every year between 1973 and 2007, bills for LGBTQ civil rights were proposed to the Oregon State Legislature. Queer civil rights finally became law on January 1, 2008. Here are recollections of the early struggles.
In 1970, a young man attempted to run a personal ad in Portland's Willamette Bridge. It read, "Gay, longhair, young, lonely, seeks meaningful relationship with same." The ad never ran, but it turned out to be one of the more important things that never appeared in print in Portland.

In October, 2010, George Nicola helped GLAPN rally veterans of Oregon's Queer Civil Rights movement to speak at an "Our Stories" gathering at Q Center. Here's the speech he gave at that event.

Hearts & Voices: Stevie Remington, Personal Recollections of Oregon Gay History, By George T. Nicola.

Stevie Remington was executive director of the American Civil Liberties Union in Oregon from 1971-1992.

Hearts & Voices: Barbara Sanders Roberts, Personal Recollections of Oregon Gay History,
By George T. Nicola.

Barbara Roberts was an advocate of LGBTQ rights long before her election as Governor of Oregon in 1990. Here are some reminiscences about her early career.
Vera Katz won election to the Oregon House of Representatives in 1972, and by 1973, George Nicola was working out of her office as a lobbyist for queer civil rights.

Hearts & Voices: Rita and Charles Knapp, Personal Recollections of Oregon Gay History, by George T. Nicola.

Rita and Charles Knapp, along with Ann and Bill Shepherd, were among the first parents in Oregon to go public for their gay kids, and the two couples jointly founded Parents of Gays, which ultimately joined up with the national PFLAG (Parents & Friends of Lesbians & Gays) organization.
Eight months before the American Psychiatric Association took homosexuality off of its "sick list," the Oregon Chapter of the APA was on record as supporting gay civil rights.
LGBTQ civil rights came to Oregon one small step at a time, as various jursdictions responded to particular challenges. Here's a survey of litigation and legislation that shaped the civil rights scene that we know in 2013.
The "Oregon System" of initiative, referendum and recall, was designed to give Oregon voters a direct voice in governance. However, the initiative process has also been used against the LGBTQ population in an effort to limit civil rights.
Steven Kafoury was one of the early straight allies who introduced gay-friendly bills in the Oregon Legislature.
A lesbian couple were murdered during the height of Oregon Citizens Alliance organizing in Southern Oregon, by a man who said he "hated homosexuals."
On November 3, 2012, GLAPN, Q Center, Basic Rights Oregon and the Human Rights Campaign gathered at Q Center to mark the 20th Anniversiary of the defeat of the Oregon Citizens Alliance's Ballot Measure 9. This background piece was provided to participants and to the press.
While Oregonians debated LGBT rights through local and statewide ballot measures, LGBT people were being elected, and re-elected, to public office. Here's a partial list.
A number of LGBT individuals have been appointed to influential positions in state and local government over the years. Here's a partial list.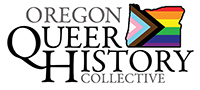 P.O. Box 3646 • Portland, OR 97208-3646 • info@glapn.or
Copyright © 2012